A Tricky Secret About Minor's Trusts
In a Will, we will often leave our entire estate to our children once both spouses have passed away. If those children are still minors (under the age of 18 years) then they cannot inherit until they reach that age. Quite often, in our Wills, we will say that our children aren't to inherit until an older age, for example 21 years or 25 years, because we believe that 18 years old is too young.
If you die whilst your children are young, and they inherit before they are 18 years old, then a minor's trust is automatically created. The executor of your Will will hold the inheritance for your children until they reach the age your have determined they should inherit.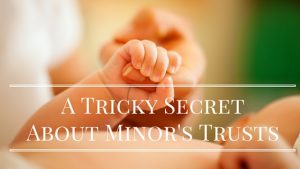 There is a little legal rule, created in a case in 1841, called Saunders v Vautier. This rule says that if a beneficiary is over 18 years (they are an adult) and there's nothing otherwise wrong with them (they haven't got a mental illness or disability), then they can require the trustee (your executor) to release their inheritance to them. They can demand it before they actually get to the age that you specified in your Will!
Now, most beneficiaries wouldn't even know about this rule, so they would have grown up knowing they were inheriting when they reached 25 years of age, as your Will stated. Most wouldn't question that, and would just wait. Unless they got some legal advice from the few legal specialists that would know otherwise!
Now, your children having access to their inheritance early would depending on the wording of the Will. This is another important reason why you need an experience lawyer to do your Will. Not a lawyer who doesn't know or understand this area of the law, and just thinks it's easy. And a Will-kit certainly wouldn't save you.
To prevent your children from accessing their inheritance under Saunders v Vautier rule after they reach 18 years, but before they reach 25 years, the Will would firstly have to make it actually conditional on them reaching 25 years before they could inherit, and would also have to have a back-up provision in case they didn't reach the age of 25 years. The reason that these two subtle Will drafting techniques avoid the Saunders v Vautier rule are fairly legally complex. As simply as possible; the explanation is that when these drafting techniques are applied, the inheritance is not "absolutely" owed to your child. It could be inherited by your grandchild. A funny little trick to get around an old legal rule.
If you would like more information, contact our estate planning lawyers in Wallan, Nagambie, Seymour or Melbourne.