Wills
TBA Law can assist you with making your will as part of your estate plan. Once your will has been executed, TBA Law can hold your original will in our strongroom for safe keeping at no charge.
Wills are regulated by the Wills Act 1997, and the administration of a deceased estate is regulated by the Administration and Probate Act 1958.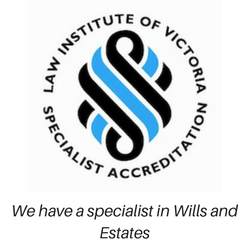 What does my Will contain?
When you make a will, you appoint an executor. The role of the executor is to deal with your estate after your death. Your estate consists of any money, property and shares in your sole name, your possessions, and sometimes the proceeds from your life insurance and superannuation. Your will directs how your estate is divided and who gets what.
Once you have specified who you would like to appoint as your executor, and you can deal with any instructions about your funeral, you can provide for specific gifts of money or heirloom items. The balance of your estate generally forms part of the "residue", and is divided between the beneficiaries that you choose.
What happens with the family home?
If your family home is owned by you and your spouse as "joint proprietors", then the ownership will automatically pass to the surviving spouse without the need for a grant of probate. This means that the home is not included in your estate assets, and transferred outside the scope of your will.
If your family home is owned by you and your spouse as "tenants in common", then you will own a distinct share of the home, based on the proportion, and this will be included in your estate assets.
What about superannuation and life insurance policies?
Your superannuation fund and life insurance policies are distributed in accordance with your nomination which you set up with your superannuation fund or insurer. This nomination could be binding or non-binding, and it is sometimes invalid if you haven't chosen the correct category of people.
Superannuation and life insurance can be paid directly to your nominated person, or to someone else that the fund determines should have it, or it can be paid into your estate and be distributed in accordance with your will.
What does testamentary capacity mean?
Like any legal document, it is a core requirement that you have legal capacity to sign the document. This means a certain level of mental capacity and understanding of the document you are signing. In particular, for signing a will, you must understand:
the value and extent of your property/estate
who you are intending to make provision for in your will
how your estate will be distributed, and
what the will actually means
If someone can prove that you did not have the necessary mental capacity to sign the will, because you were suffering from dementia, insanity, or some other medical condition, then the will could be challenged.
What happens if I don't have a Will?
If you died without having a will, you will be deemed to have died "intestate" and your estate will be distributed according to a legal formula outlined in legislation. The person with the greatest interest in your estate will be entitled to be the administrator, and you will not get to choose your executor. Without a will, you will not have appointed a guardian for your young children; and if you have a spouse and young children, your spouse will not receive your entire estate.
Who can witness my Will?
The law requires your signature to be witnessed by 2 independent people over the age of 18 years. They must both be present when you sign. A beneficiary should not be a witness, if it can be helped – the rule used to be that a beneficiary who witnessed a will would lose their entitlement under the will, however this rule has now been abolished. However, it is still good practice to have independent people witness your signature to limit any claims about duress or improper dealing.
If is preferable for you to attend TBA Law to execute your will, however if circumstances are such that you cannot attend one of our offices (Wallan, Nagambie or Melbourne) when we are available, you need to make sure that you follow our instructions to ensure your will is validly executed.
How much does a Will cost?
Any other questions? Please contact our office.