Estate Planning, Wills and Probate Lawyers, and Family Law for Seymour
Ensure you're prepared for the future. Whether you're the executor of a will or looking to ensure that your own possessions go to the right hands when you die, TBA Law is there to assist you with compassionate, relevant and knowledgeable advice.
We understand how stressful and complicated the process of preparing to divide your own estate or that of a love one can be, so we endeavour simplify the process. Our goal is always for you to leave our offices more educated about the range of options available to you, so you can make the right choice for you and your family.
Helping you prepare for the future
It's never too early to draw up a will. Having your wishes laid our clearly and firmly in writing can prevent further heartbreak amongst family and friends after you die, giving you the chance to divide up your property precisely as you see fit. If you're over 18 (and especially if you're unmarried or not in a civil partnership) it's important to keep your will up to date, so in the event of the unthinkable, the people you've elected to pass your estate on to receive exactly what you wished them to.
A properly drawn up will is something everyone should have, so TBA Law makes it easy and affordable to have it created with the professional support of one of our estate lawyers. Start a conversation today.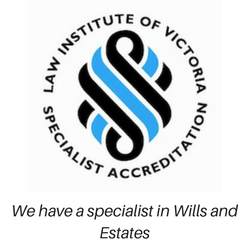 Supporting you through the probate application process
If you're the nominated executor of a state, you can't begin enforcing the wishes of your deceased loved one without grants of representation from the Supreme Court of Victoria. Depending on whether the individual left a written will or not, this document will either be a grant of probate or a letter of administration, respectively. In both cases, this document signifies that the court recognises the applicant as the executor or administrator of the estate with the legal power to administer the estate.
TBA Law can assist you through the process, giving you the guidance you need to navigate your way to a grant of representation, allowing you to carry out the wishes of your loved one. We have extensive experience working in this area and have an in-depth understanding of the best course of action to ensure that this process can be completed in as timely a manner as possible.