Jacqueline Brauman
Principal Solicitor and Accredited Wills and Estates Specialist
Jacqui is the principal solicitor and director of Theobald Lawyers Pty Ltd, having bought the firm from Rod Theobald in Nagambie in 2012. She has a Bachelor of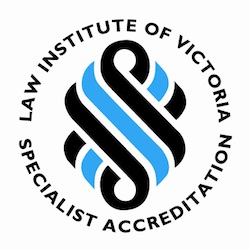 Laws, Bachelor of Accounting, Advanced Diploma in Taxation Law, Graduate Certificate in Applied Law (In House), and a Masters in Law majoring in Wills and Estates. Jacqui became a Law Institute Accredited Specialist in Wills and Estates in 2016. She started her legal career in Seymour in 2007, and after working in all areas of practice for 3 years, she moved to Wagga Wagga where she primarily practised in Family Law. After Wagga Wagga, she then worked for 2 years in Sydney as in-house counsel in a large recycling company, practising mainly in compliance and property law. She escaped this and returned to Central Victoria as soon as she could. Jacqui now practises primarily in the area of Estate and Succession Planning, along with Property Law, and Business and Commercial transactions.
Public school educated and raised in Wangaratta, Jacqui is married to Daniel Brauman. They live together with their blue-heeler Akro at their property just south of Seymour. Together, they do a lot of camping and fishing in the Victorian high country. Jacqui also enjoys running and generally keeping fit. There are some who may remember when she used to be a fitness instructor for the Mitchell Shire Council, taking boxercise, spin classes and yogalates in the evenings!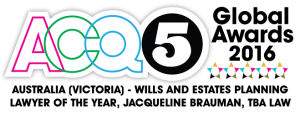 Jacqui is the author of three legal books: In Case of Emergency and Death and Social Media and The Sandwich Generation. They are all published through Amazon and Kindle, and can be purchased by clicking on the relevant book cover below.